Selecting a Program
Click the following categories to learn more about the program selection process for study abroad and resources for searching!
Students are required to attend a general information session, and to meet with a study abroad advisor to review their options and to discuss program details before beginning the application process. Students should plan to attend a general information session well in advance of application deadlines. General information sessions are offered throughout the semester. After attending a general information session, students can contact the Off-Campus Study Office to arrange for a required individual advising appointment. The dates & times, and locations of the general information sessions are provided under announcements. (see the lower, left-hand side of the Off-Campus Study website).
As is the case with the planning of all academic programs, students should first discuss options they are considering for study abroad with their academic or major advisor(s). It is also advisable to include a written outline or discussion of the proposed study abroad program in the sophomore plan. Many faculty and staff have studied, worked, and lived abroad, and continue to have ongoing research collaborations. All of these associations can be of use in helping students create a more complete sense of which programs and places will best serve the forwarding of their undergraduate education.
Swarthmore students are required to complete an evaluation of their programs. Available on the Off-Campus Study website.

You are encouraged to contact previous study abroad participants as well as international students from the country or countries you are interested in. If there are no recent participants from Swarthmore for the program you are considering, you should contact the program directly to ask for student evaluations and to be put in touch with recent participants from other institutions.
In addition to the student evaluations of programs, students will find information about most approved study abroad programs, travel guides and other literature pertaining to the host country sites, as well as a variety of pertinent information for student travelers in the Off-Campus Study resource room. Unless the room has been scheduled for a meeting, students can use the resource room during normal office hours (Monday – Friday, 8:30am – 4:30pm).
Each fall, the Off-Campus Study Office sponsors a study abroad fair. Typically this event brings representatives from more than forty study abroad programs to campus. Additionally, throughout the year, many study abroad program representatives visit campus. Be sure to keep an eye out for notices for visitors on the Off-Campus Study website under Announcements on the lower left-hand side of the website and in the Reserved Students Digest.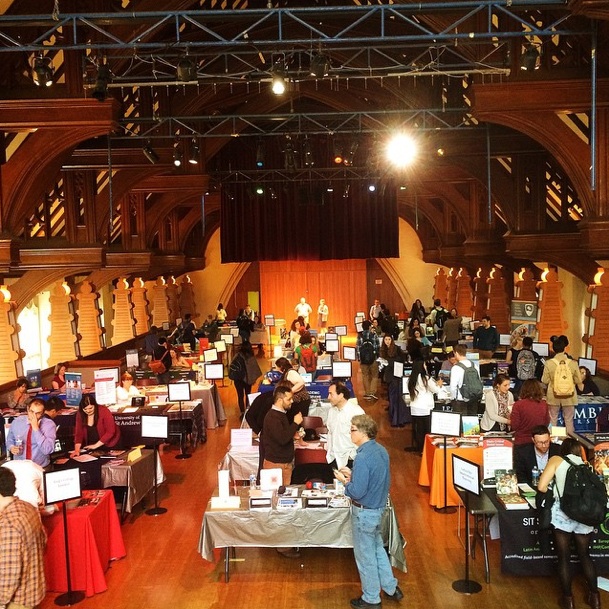 Students can select from a wide array of approved programs. Using the searchable database, programs can be searched based on many parameters including location, language of study, and available academic subjects.

Study abroad programs fall into the broad categories of Swarthmore College administered programs, reciprocal exchange, affiliated programs and universities, and other approved programs generally offered by third-party providers. Each of these programs offers a variety of exciting new opportunities and challenges. Many programs offer distinctive opportunities to conduct fieldwork, research, independent study, or participate in an internship or service-learning course for credit.

Swarthmore Programs are coordinated by Swarthmore faculty and staff. A Swarthmore program is usually an outgrowth of faculty experience in a region, and creates special learning opportunities for students. Swarthmore arranges courses (and/or registration in a host-country university), housing, orientation, and has program staff in country.

Swarthmore has reciprocal exchange programs with The University of Tokyo, Ashesi University in Ghana, and Yale-NUS in Singapore.

Affiliated programs and universities are ones for which Swarthmore has a close on-going relationship, however Swarthmore is not directly involved in the administration of these programs.

Approved third-party programs provide additional opportunities for students to study special topics, and often languages, with a country or regional focus. Swarthmore does not administer these programs and students are responsible for submitting their applications directly to these programs.

Petitions
Should a student be interested in a program that is not currently approved, he or she will need to discuss this option with a study abroad advisor. A petition application requires approval by the major(s) advisor, pre-estimation of credit for the courses on the program, approval by the Off-Campus Study Office, and approval by the Off-Campus Study Committee.
Travel advisories of level 3 or 4 are issued by the US State Department when conditions that make a country dangerous or unstable lead the State Department to recommend that Americans avoid or consider the risk of travel to that country. Level 3 or 4 advisories are also issued when the U.S. Government's ability to assist American citizens is constrained due to the closure of an embassy or consulate or because of a drawdown of its staff.

A petition is required should a student be interested in studying in a country with identified increased risks (usually a level 3 or 4, or with parts of the country at level 3 or 4). In addition to the requirements for all petitions (see Selecting a Program: Program Search), students must write a statement outlining what the academic significance of this particular country and program is to them, and indicate what personal knowledge and experience the student has of the country, culture, and language.

The petition will be reviewed by a committee, normally consisting of the Provost, Director for Off-Campus Study, Faculty Adviser for Off-Campus Study, and members of the Swarthmore International Travel Risk Management Committee and other members of the community as deemed necessary by the Provost.

If a petition is successful, students and their parents or guardians will be required to sign a supplemental acknowledgement of risk. Should a program in a country under a travel warning be cancelled, participants may incur financial losses and might not receive credit. Students are encouraged to consider supplemental insurance options to cover losses if programs are cancelled.
Occasionally a student may choose to take a leave of absence to study abroad. Note that students who choose this option are not available for financial aid and cannot transfer the study abroad credit to the College. To take a leave of absence students must complete the appropriate Leave of Absence form available from the Dean's Office.